[ad_1]

Semiconductor unit shipments totaled 868.8 billion in 2016 and are forecast to top one trillion units in 2018, says IC Insights.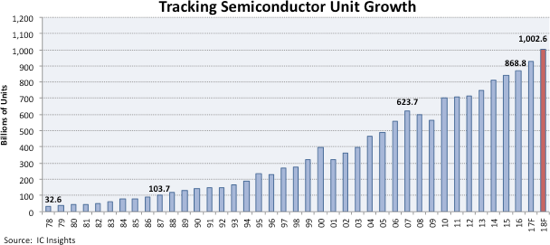 Figure 1 shows that semiconductor unit shipments are forecast to climb to 1,002.6 billion devices in 2018 from 32.6 billion in 1978, which amounts to average annual growth of 8.9% over the 40 year period and demonstrates how dependent on semiconductors the world has become.
The largest annual increase in semiconductor unit growth during the timespan shown was 34% in 1984, and the biggest decline was 19% in 2001 following the dot-com bust.
The global financial meltdown and ensuing recession caused semiconductor shipments to fall in both 2008 and 2009; the only time that the industry experienced consecutive years in which unit shipments declined.
Semiconductor unit growth then surged 25% in 2010, the second-highest growth rate across the time span.
Despite advances in integrated circuit technology and the blending of functions to reduce chip count within systems, the percentage split of IC and O-S-D (opto-sensor-discrete) shipments within total semiconductor units remains heavily weighted toward the O-S-D category.
In 2016, O-S-D devices accounted for 72% of total semiconductor units compared to 28% for ICs. Thirty-six years ago in 1980, O-S-D devices accounted for 78% of semiconductor units and ICs represented 22% .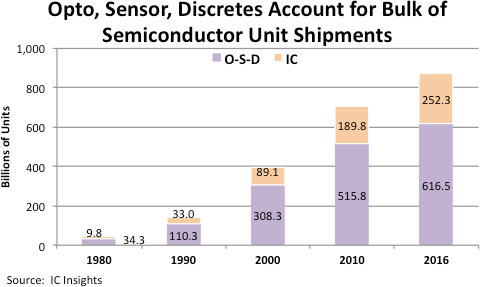 Figure 2
Surprisingly, shipments of commodity-filled discretes devices category (transistor products, diodes, rectifiers, and thyristors) accounted for 44% of all semiconductor unit shipments in 2016. The long-term resiliency of discretes is primarily due to their broad use in all types of electronic system applications.
Consumer and communications applications remain the largest end-use segments for discretes, but increasing levels of electronics being packed into vehicles for greater safety and fuel efficiency have boosted shipments of discretes to the automotive market as well.
Discretes are used for circuit protection, signal conditioning, power management, high current switching, and RF amplification. Small signal transistors are still used in and around ICs on board designs to fix bugs and tweak system performance.
Among ICs, analogue products accounted for the largest number of shipments in 2016. Analogue ICs represented 52% of IC unit shipments in 2016, but only 15% of total semiconductor units. Figure 3 shows the split of semiconductor unit shipments by product type in 2016.
Figure 3
For 2017, semiconductor products showing the strongest unit growth rates are those that are essential building-block components in smartphones, new automotive electronics systems, and within systems that are helping to build out of Internet of Things.
Some of the fast-growing IC unit categories for 2017 include Consumer—Special Purpose Logic, Signal Conversion (Analog), Auto—Application-Specific Analog, and flash memory.
Among O-S-D devices, CCDs and CMOS image sensors, laser transmitters, and every type of sensor product (magnetic, acceleration and yaw, pressure, and other sensors) are expected to enjoy strong double-digit unit growth this year.
More coverage about these semiconductor products and end-use applications are included in the 2017 editions of IC Insights' McClean Report and O-S-D Report.
[ad_2]

Source link