[ad_1]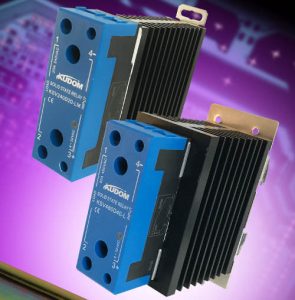 "A single part number specifies and purchases a correctly rated and fully kitted out relay ready to install and use," said Switchtec, which claims 1ms operating time for the KSV series, compared to 15ms for the electro-mechanical relays.
An added benefit of SSRs over electro-mechanical relays is silent switching. "Particularly where many relays are involved in echoey control rooms and in metal cabinets, e-mech relays can be noisy, clicking on and off in applications where frequent switching is required," said Switchtec.
KSV relays come in four ratings: 10, 20, 30 and 40A, and are suitable for switching loads up to 280Vac or 530Vac, for 240Vac and 480Vac relays respectively.
The data sheet says: "the product offers four control voltage specifications: 4 ~ 32VDC or 90~280VAC", but then goes on only to specify 4-32Vdc or 90-280Vac, and no other options.
All types are available with zero-crossing turn-on to minimise electrical interference, or random turn-on for fast switching.
10, 20 and 30A types are 81 x 30 x 110mm, and the 40A version measures 120 x 50 x 110mm.
A built in LED indicates 'on' when lit.
Operation is over -30 to 80 degrees C ambient.
Applications are foreseen in PLC interfaces and process control, for example in high-low temperature chambers, plastics machinery, incubation machines, oiling machines, lifts, lighting and fountain controllers.
[ad_2]

Source link