[ad_1]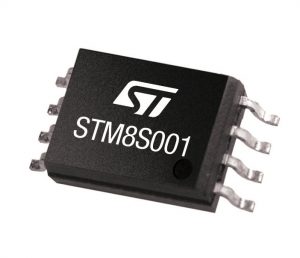 With a price tag as low as 200 cents for orders of 1000 pieces, the STM8S001 has I2C, UART, and SPI interfaces. And the memory offering is good too – 8kbyte flash, 1kbyte RAM, 128-byte EEPROM, and there is also a 3-channel 10-bit ADC on-chip.
Additional features include five GPIOs, one 8-bit and two 16-bit timers, and an internal RC oscillator that allows flexible clock control from 128kHz to 16MHz.
There is also a Single-Wire Interface Module (SWIM) for programming and debugging.
It is an 8-bit STM8 Core device which is designed for high code efficiency. It contains six internal registers, 20 addressing modes and 80 instructions.
The internal registers include two 16-bit Index registers, an 8-bit accumulator, a 24-bit program counter, a 16-bit stack pointer and an 8-bit condition code register.
An operating temperature range of -40°C to 125°C aims the MCU squarely at industrial devices like smart sensors and lighting controls.
A evaluation kit will be available in Q4 2017.
[ad_2]

Source link