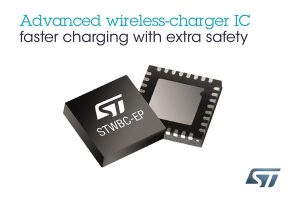 One of the market's first wireless-charging controllers to support Qi Extended Power, ST's STWBC-EP combines best-in-class energy efficiency, consuming just 16mW in standby and able to wirelessly transfer more than 80% of the total input power.
Featurs created by ST include active presence detection to wake the system quickly when a compatible object is presented for charging.
The technology also enhances the performance of Foreign Object Detection (FOD), to cut power and prevent overheating if objects containing metals are brought too close to the charger.
The STWBC-EP work ms with supply voltages ranging from 5V USB power up to 12V.
To help accelerate time to market for product developers, ST has created an associated reference design with a Qi 15W ready-built transmitter board and documentation to get started. ST also has a 15W receiver chip (STWLC33) for use in high-speed chargeable devices, which developers can use to complete their applications.
The STWBC-EP is available now, as a 32-lead QFN (5mm x 5mm) device, priced from $3.175 for 1000 pieces.