[ad_1]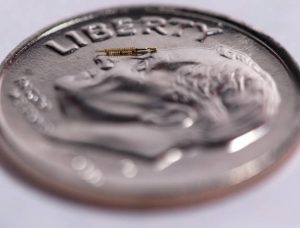 "For decades the spring-loaded probe aka pogo-style pin has delivered excellent mechanical and electrical performance in a highly compliant contact," said the Texas firm. "However, this often came at a high cost given that each pin is constructed of three or four discreet parts manufactured in a less-than-fully-automated process.
Like pogo-pins, the new design, dubbed the H-Pin, can be used at sub-mm pitches.
The firm claims same mechanical, electrical and thermal performance pogo-pins with a working length compliance of up to 1mm, a flat spring rate, operation at up to 15GHz with -1.0dB loss, 4A capability, and 200°C maximum temperature. Mounting pitch can be as low as 0.2mm.
"Although there are a few design tweaks, the real departure is in the manner in which complete pin assemblies are manufactured using a high volume BeCu stamping process, a 100% automated, high speed assembly, and inspection process that can produce up to 400 pins per minute," said Plastronics, which has been making spring-loaded probe pins for burn-in, humidity and failure analysis for 40 years.

In operation, the H-Pin has a leaf-spring between the two plungers, plus an external compression spring. Contact resistance is "minimal and well within accepted levels", claimed the firm.
As well as test, the pins can be used for for board-to-board connection in telecoms, automation, medical, aerospace, and military applications said Plastronics. "These connectors create a one-sided connector that is mounted against pads on the PCB."
[ad_2]

Source link