[ad_1]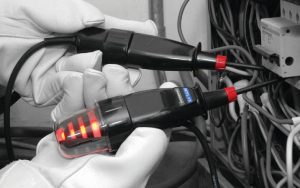 Built-in LEDs provide a clear indication for voltages at 50, 230, 400 and 690V thresholds in the form of illuminated bands (see photo) which are visible all the way around the back of the tester handle, even in bright sunlight. "This ensures accurate identification of potentially lethal supply voltages above 50V and enables the user to easily distinguish source voltages of different supply types," said Martindale.
It is compliant with the latest edition of GS38, and safety features include a finger shield to minimise the risk of accidental contact with a live conductor, and insulated probe tips with only 4mm of exposed metal.
A two layer double insulated cable connects the two probes – with white inner insulation to give a clear warning of abrasion. The cable is also resistant to heat and oil damage.
No batteries are needed, and there are no range switches "preventing misleading results and ensuring reliable indication of hazardous voltages every time", claimed Martindale.
It comes with six interchangeable test probes.
Applications foreseen include wind turbine installations, energy intensive process industries, high power variable speed drives and UPS systems – for 'proving dead' and ensuring compliance with the Electricity at Work Regulations for implementing safe working practises.
Available to purchase separately or as part of a kit, MTL15PD includes a matching proving unit to verify MTL15 operation before and after use, and a carry case.
[ad_2]

Source link