[ad_1]

If your current router is getting a bit long in the tooth, absent the latest hardware or support for the latest 802.11ac networking standard, it may be time for an upgrade. Thanks to directional beamforming, routers can now exhibit faster speeds and range than ever before.
This equates to less time-consuming downloads and nippy web browsing. That goes without mentioning advancements in wireless technology allowing for speeds up to 34Gbps. We've rounded up ten of the best wireless routers to give your home an 802.11ac a boost.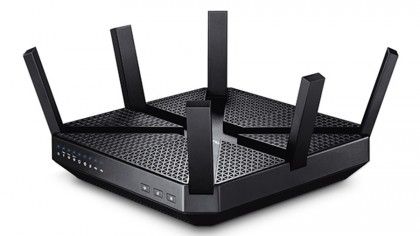 1. TP Link Archer AC3200 Wireless Tri-Band Gigabit Router
Six antennas for three wireless networks
Speed: 802.11ac: 2x 1300 Mbps, 802.11n: 600 Mbps | Connectivity: 5x Gigabit Ethernet, 1x USB 3.0, 1x USB 2.0 | Features: Dual 802.11ac networks, 1GHz Dual-core processor with three co-processors, Smart Connect
Dual wireless networks
Plenty of internal processing power
No faster for single connections than a traditional 802.11ac router
No built-in modem
The idea behind the six antennas on the Archer AC3200 is triple wireless networks for a situation where you might have dozens of computers and mobile gadgets all needing access to wireless resources. 
It has two 5GHz bands supporting 802.11ac, so when a large transfer is gobbling up all the space on one channel, you can keep other devices running at full speed on the other one. It's all done through TP-Link's Smart Wi-Fi tech that automatically picks the most suitable frequency band to assign to your various devices based on network traffic. 
The C3200 also brings a clean and simple management interface that provides the usual basic settings page alongside advanced pages for each Wi-Fi band. On the router itself you can initiate WPS, disable LED lights and switch Wi-Fi on and off.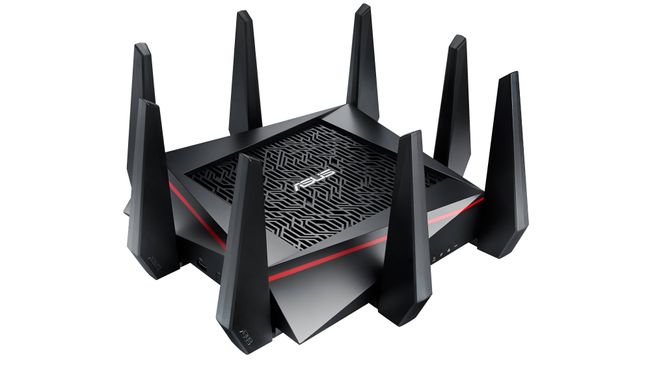 2. Asus RT-AC5300 Tri-band gigabit router
Ideal for busy home networks
Speed: 802.11ac up to 1734Mbps | Connectivity: 5x Gigabit Ethernet (1 for WAN, rest for LAN), 1x USB 3.0, 1x USB 2.0 | Features: Dual 5GHz networks plus one 2.4GHz, Adaptive QoS, smartphone app, VPN server
Link aggregation for 2Gbps speeds
Smartphone app for easy control
Expensive
Only one USB 3.0 port
If you've got a large house where the Wi-Fi strains to reach every corner, and your home is filled with people using various devices to access the internet, then the Asus RT-AC5300 Tri-band gigabit router is the router for you.
It comes with eight aerials and three bands – two 5GHz ones for fast multi-user performance and a 2.4GHz band as well for older devices. It features an excellent QoS system that detects what sort of network traffic it's handling and sets its priorities accordingly – so streaming 4K Netflix will be given more bandwidth than simple tasks such as moving a file to your NAS.
The design won't be for everyone, but its performance can't be downplayed – this is an extremely fast and feature-rich router.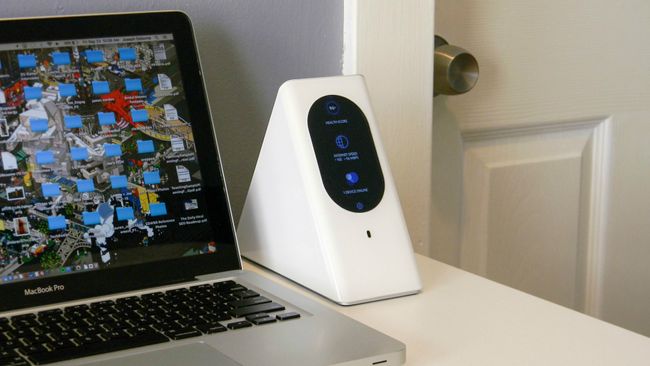 3. Starry Station
Wi-Fi made easy (and attractive)
Speed: 802.11ac: 1,300Mbps 802.11n: 450Mbps | Connectivity: 2 x Gigabit LAN port | Features: Dual-band Wi-Fi technology, 3.8-inch LCD touchscreen, embedded speaker/microphone
Elegant, simple interface
Touchscreen offers info and control
May need to rewire source
Gets noticeably loud
The Starry Station is not like most routers in its price range. Instead of chasing after the fastest speeds and longest range, it's all about two things: convenience and aesthetic. The triangular design and curious LCD display make the Starry Station a welcome addition to your home whether it's sitting atop your desk or on a coffee table in your living room.
Sure, it's expensive for what it is, considering it offers little performance advantage over your ISP's stock router, but what the Starry Station lacks it more than makes up for in style and ease-of-use. Just be sure that your source connection isn't in, say, your closet.
Read the full review: Starry Station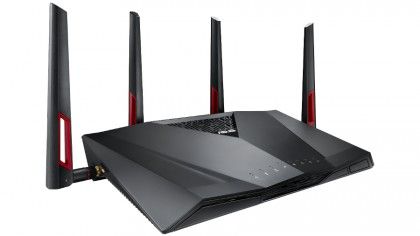 4. Asus RT-AC88U
4×4 and 1024-QAM deliver the best possible wireless performance
Speed: 802.11ac: 2167Mbps 802.11n: 1000 Mbps | Connectivity: 9x Gigabit Ethernet, 1x USB 2.0 1x USB 3.0 | Features: 1024-QAM, MU-MIMO, WTFast Gamers Private Network, Asus AiProtection, AsusWRT Software
Fastest possible wireless speeds
Comprehensive software interface
Expensive
Requires special hardware to use fastest speeds
The Asus RT-AC88U justifies its above-average pricing with unrivalled record-breaking next-generation 802.11ac wireless performance. With four antennas and NitroQAM technology, which pushes speeds further still, this router enables wireless performance that can break the 1GB/sec limit. 
There's a minor catch – you'll need to invest in a NitroQAM wireless adapter, such as the Asus PCE-AC88, to see those faster speeds. It's worth it though. Coupled with comprehensive built-in software, a generous array of eight external LAN ports and 100MB/sec performance from its USB 3 port, this router is a champion, and more affordable than the Asus RT-AC5300 Tri-band gigabit router we mention above.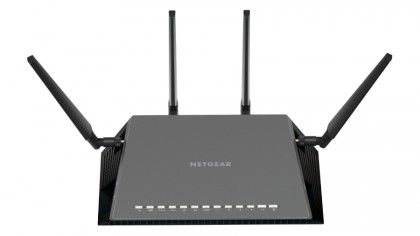 5. Netgear Nighthawk X4S VDSL/ADSL Modem Router D7800
Built-in VDSL modem and 4×4 wireless speeds make this a great all-rounder
Speed: 802.11ac: 1733Mbps, 802.11n: 800 Mbps | Connectivity: 5x Gigabit Ethernet, 2x USB 3.0, 1x eSATA | Features: VDSL 2 modem
4×4 wireless up to 1733 Mbps for great wireless performance
VDSL 2 modem
Lacks 1024-QAM
Requires special hardware to use fastest speeds
Netgear's D7800 wireless router also has four antennas and can deliver much faster speeds than a standard 802.11ac router, which again, depends on using a compatible adapter or bridge. It comes with two USB ports and an eSATA connector for a huge amount of connectivity, and a VDSL 2 modem built-in. The software is pretty good too, with a simple Dynamic QOS system to make it easier to manage a home network with a massive amount of devices.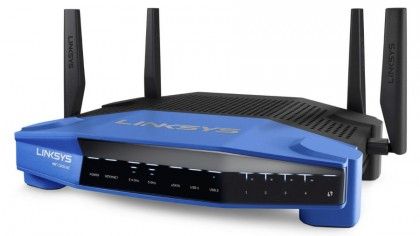 6. Linksys WRT1900ACS
This bright blue box from Linksys is rather impressive
Speed: 802.11ac: 1300 Mbps, 802.11n: 600 Mbps | Connectivity: 5x Gigabit Ethernet, 1x USB 2.0, 1x USB 3.0, eSATA | Features: OpenWRT compatible, LinkSys Smart Wi-Fi support
Slick, comprehensive software
Great range and performance with fast USB shared storage
Lacks the nifty 4×4 antenna speeds of some routers
Relatively pricey
With three wireless streams, the Linksys WRT1900ACS is a less expensive proposition than the above quad-stream 802.11ac routers, and while it doesn't offer the same blistering performance, it still packs performance and great software. Its internals are very powerful. 
A dual-core 1.6 GHz processor and 512MB of memory drives a great-looking software interface that makes it a doddle to set up and customise a home network, with a built-in VPN, great wireless range as well as fast external connectivity via USB.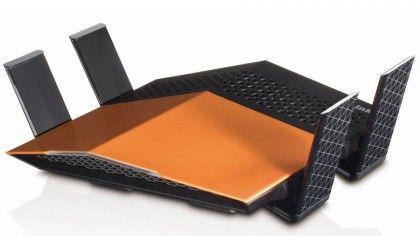 7. D Link EXO AC1750 WiFi Router DIR-869
A no-frills option from D-Link that will certainly work well
Speed: 802.11ac: 1300 Mbps, 802.11n: 450 Mbps | Connectivity: 5x Gigabit Ethernet | Features: Dual-core processor
Offers 3×3 802.11ac wireless, compatible with all current laptops and hardware
Slim design
No shared storage
Few other frills, such as a built-in modem
With four wide antennas that look like solar panels, the orange DIR-869 is a mid-range router from D-Link that uses the company's flat, angular design. It doesn't do anything particularly clever, but is still fast enough to work with the vast majority of all wireless hardware on the market at maximum capacity. It's a dual-band model with a dual-core processor, driving a minimalist but slick software interface. 2.4GHz up to 450Mbps and and 5GHz up to 1300 Mbps is covered.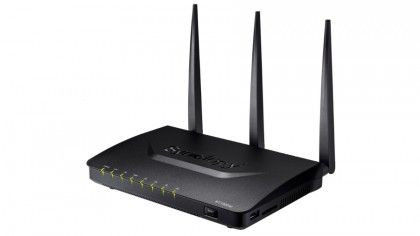 8. Synology Router RT1900ac
Synology's first router meets high expectations
Speed: 802.11ac: 1300 Mbps, 802.11n: 600 Mbps | Connectivity: 5x Gigabit Ethernet, 1x USB 3.0, 1x USB 2.0 | Features: Synology Router Manager software
Familiar, spectacular software design
SD-card slot is a great idea
Only one USB port
No modem
If you've used a Synology NAS, you'll be familiar with the company's Linux-based software interface that presents a Windows-like environment, with icons, folders and so on with all the settings to configure your hardware. Synology has gone with the same software design with the Synology Router Manager on the RT1900ac, its first wireless router. 
Hardware-wise it offers the same sort of thing as other 802.11ac routers, with 1300 Mbps 802.11ac and 600 Mbps 802.11n. Unsurprisingly, there's also great support for shared storage, with well-designed iOS and Android apps to access files. Uniquely, there's also an SD card slot joining the single USB 3 port for shared external storage.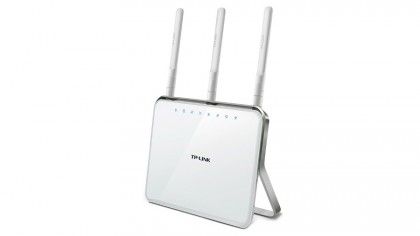 9. TP-Link Archer C9
Inexpensive but powerful 802.11ac router
Speed: 802.11ac: 1300 Mbps, 802.11n: 600 Mbps | Connectivity: 5x Gigabit Ethernet, 1x USB 3.0, 1x USB 2.0 | Features:
Great value
Full range of features
Middling USB performance
Not the best range
Although the Archer C9 is relatively inexpensive, there's very little lacking from its specification list. It supports 1300Mbps 802.11ac wireless speeds that will deliver maximum performance for just about all laptops currently on the market. 
It has good software, powerful internals and a bright white, inoffensive look that wont look garish in the middle of your living room. Although the built-in modem only supports DSL, rather than VDSL 2, very little else has been left out, making this a solid value option.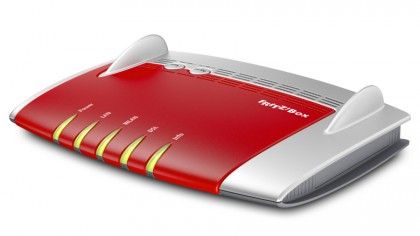 10. AVM Fritz!Box 3490
Advanced software features and good performance
Speed: 802.11ac: 1300 Mbps, 802.11n: 450 Mbps | Connectivity: 4x Gigabit Ethernet, 2x USB 3.0 | Features: VDSL 2 modem
Dual USB 3 ports
Advanced software configuration features
Why only 4 ethernet ports?
Features a little sparse compared with some alternatives
AVM's more high-end 802.11ac routers support built-in VOIP hardware and act as a base station for DECT cordless phones, un addition to router and DSL functions. But the Fritz!Box 3490 leaves all those extras behind in favour of affordability and simplicity.
Sporting an unusual red and silver appearance, the recently updated 6.50 software has some features that more technical users will love. It gives you plenty of control over your home network, such as the ability to scan for local wireless networks that may cause interference, and extensive logging to see exactly how much bandwidth each of your computers is consuming.
[Editor's Note: This product is only available in the UK and other European territories.]
Read the full review: AVM Fritz!Box 3490
Gabe Carey has also contributed to this article
[ad_2]

Source link