The iPhone X is Apple's ridiculously big, ridiculously powerful 10th anniversary phone and it's finally available for pre-order. And if you're in the market to buy then you've come to exactly the right place – we've collected up all the best iPhone X deals to pre-order right here.
On this page, we'll tell you how much the iPhone X costs upfront and how much contract deals will set you back. We've trawled the UK's most popular retailers and networks, so you know that you won't end up ordering an iPhone X now, only to get deal envy when you see that your mate managed to get a cheaper price.
Whether you're after a big data deal to keep you streaming and surfing, or just want the cheapest iPhone X out there, you can use the comparison tools below to find your way to the best iPhone X pre-order deals. Or see our handpicked recommendations for the best deals below that.
But you'd better act quickly…we understand from industry insiders that the demand will far outweigh the supply for the iPhone X. If you want your new iPhone this side of Christmas, then you'll need to get in there sharpish.
The best iPhone X deals you can pre-order today:
Alternatively, you can head straight to the websites of the UK's biggest networks and mobile phone retailers to see their iPhone X deals first hand:
See also: iPhone 8 deals | iPhone 8 Plus deals | iPhone 7 deals | iPhone 7 Plus | Best mobile phone deals
iPhone X pre-order price: how much does it cost?
We're going to level with you straightaway. The iPhone X IS EXPENSIVE. Are you ready for this…the 64GB version will cost an astonishing £999 at the outset.
But look on the bright side…at least you'll get £1 change from the thousand pound spend on your new phone!
Go for the 256GB model instead if you still like to save catalogues of photos, songs and films to your phone, and you'll have to find £1,149 instead. At that price, now might be the time to get in to streaming.
You can buy the iPhone X from the following retailers:
When will I get the iPhone X after pre-order?
You can pre-order the iPhone X right now! The phone will be in pre-order phase for just a week, so in theory you could get the phone this Friday – or Thursday if you're super super lucky!
Well that's the official line anyway. The iPhone X will be available from Friday November 3, but only to a select few. We can see that most retailers and networks are already telling customers that they won't be able to get the handset for another few weeks. Plus, we have it on good authority that the supply is so low that it wouldn't be a big shock if you're left waiting a month or two before you finally get your hands on the iPhone X. Maybe better to check out the latest iPhone 8 deals if you want your shiny new smartphone before Christmas.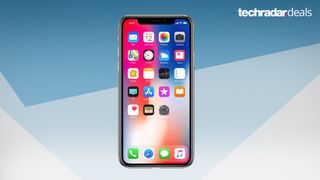 Hands on iPhone X review and specs in brief
Screen size: 5.8-inches | Resolution: 1125 x 2436 | Rear camera: 12MP | Weight: 174g | OS: iOS 11 | RAM: 3GB | Storage: 64GB/256GB | External storage: No | Battery: 2716mAh
Simply stunning screen
iOS 11 is looking good
Wireless charging
To state the obvious – the price!
We think that the iPhone X is the most important iPhone ever launched. After years of incremental upgrades, Apple has pulled out all the stops for its 10th anniversary smartphone. Face ID lets you unlock your phone just by looking at it, the stunning 5.8-inch Super Retina HD display does away with the bezel almost entirely, there's wireless charging, and that's before we even get to Animojis!
Read TechRadar's hands on iPhone X review

Now let's break down the best iPhone X deals by network…

Best iPhone X deals for pre-order on EE
Best iPhone X deals for pre-order on O2
Best iPhone X deals for pre-order on Vodafone
Best iPhone X deals for pre-order on Three