[ad_1]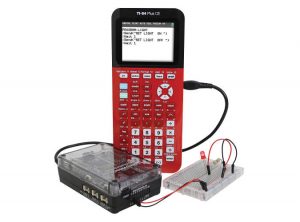 Called the TI-Innovator Hub, and soon to be available in the UK, the Hub is a palm-sized box with a microcontroller, red and RGB LEDs, a light sensor and sounders inside, plus IO lines to connect with the world outside.
Control, display and data analysis are provided by plugging it into one of two TI calculators: TI-84 Plus CE or TI-Nspire CX.
"The TI-Innovator allows students to get hands-on with technology and not even realise they are learning STEM principles, like coding, that they need to be successful in the classroom today, in college tomorrow and in their careers in the future," said Dr Peter Balyta, president of TI education technology. "The opportunities for exploration are endless; students' imaginations are their only limits."
To go with the Hub, which is already available in the US, there are on-line teaching resources including downloadable teachers notes.
For example, said the firm, students can start by learning to write a program to play a single note, and then put together sounds at different frequencies to play a song.
The hardware is made specifically for the classroom and the enclosure is said to protect against drops. One system can be shared among several students.
I/O modules ('TI-InnovatorTM I/O Modules') can be bought separately to add more complex interactions. These include one with a servo motor, a coin-type vibration motor, ultrasonic ranging, an analogue light sensor and a white LED.
T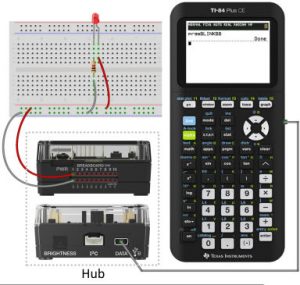 he breadboard in the image above is also sold separately (TI-Innovator Breadboard Pack), and comes with a bunch of components including resistors, LEDs, seven segment LED, power mosfet, motor, thermistor, temperature sensing chip, and IR LED/sensor pair.
Pricing has yet to be revealed. The calculators are already available – either for around £100. From the 'getting started guide', it looks like the Hub can also be operated from a computer running TI-NspireTM CX software.
During a trial in Florida, where students wrote code to activated a motor, flash leds and play music on the built-in speakers, according to TI, one student said: "Before, I really wasn't interested in what programming was. But after I started working with the Innovator, it was like a whole new world was opened."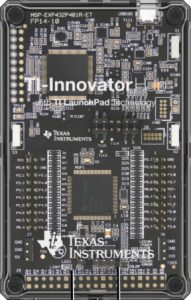 Part numbering suggests the Hub PCB is related to the firm's LaunchPad series of boards and is therefore built around an MSP430 MCU.
According to a spokesman for TI, Hub will be available Europe on 26 Jan, which coincides with the BETT trade show in London – Stand SV19 in the Steam village for a demo.
[ad_2]

Source link