[ad_1]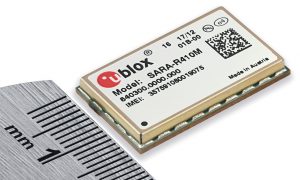 By enabling remote devices to connect directly to 4G networks, the u-blox SARA‑R410M will aid the rollout of IoT/M2M  applications, from smart metering to connected healthcare, and from industrial control and monitoring to smart buildings and cities.
The 16 x 26 mm form factor enables designers to keep device sizes to a minimum and is the same as u-blox' existing 2G and 3G modules. This means designers can easily migrate from earlier modules to take advantage of LTE Cat M1, without changing their circuit board designs.
Innovations included in the SARA‑R10M design allow customers to use a single hardware version globally. Depending on the installed software, SARA‑R410M broadens the market to multi-regions.
Thanks to its quad-band support, this device reaches all of North America to include not only the USA and Canada but also Mexico (B2/B4/B5/B12), or can also service markets in South America, Australia and New Zealand (B3/B5/B8/B28).
Operators and customers can deliver future firmware updates over-the-air with u-blox's uFOTA client/server solution that uses LWM2M, a light and compact protocol that suits IoT applications. This will enable them to continue using the same hardware for new band configurations, operator certifications, features and functionalities, which can be added to the module over time.
With IoT and M2M devices required to operate for long periods of time on a small battery, the u-blox SARA‑R410M includes power‑save mode (PSM) and extended discontinuous reception (eDRX) that together deliver battery life of up to 10 years. And with manufacturing in ISO/TS 16949 certified production sites and an extended operating temperature range of –40°C to +85°C, it is ideal for industrial applications.
The module also boasts extended range, meaning it can operate within buildings or even basements. Its maximum coupling loss (MCL) of 155.7 dB is 15 dB better than GSM or LTE Cat 1.
[ad_2]

Source link