[ad_1]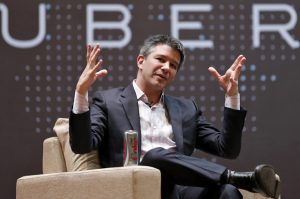 Uber's CEO has resigned from a US Presidential advisory committee following the executive order putting a temporary ban on immigrants into the US from seven countries.
Following the executive order, an online petition, sponsored by the Independent Drivers Guild (New York), called for the immediate resignation of CEO Travis Kalanick from President Donald Trump's advisory council.
The petition says that Uber was built on a "foundation of hard work by immigrant workers."
It states: "Uber can and should do better to stand up for immigrants. Nine out of 10 drivers that power Uber in New York City are immigrants. Nearly 90 percent of the IDG drivers polled have told us that this ban either impacts them or their friends and families directly."
The petition also calls for Uber to publicly state that drivers will not be penalised for acting in protest of the ban, instituting in-app tipping and making a "substantial" donation to fight the ban.
Public reactions included a 'deleteUber' campaign urging people to boycott the service.
This is the email Kalanick sent to Uber employees:
Dear Team,
Earlier today I spoke briefly with the President about the immigration executive order and its issues for our community. I also let him know that I would not be able to participate on his economic council. Joining the group was not meant to be an endorsement of the President or his agenda but unfortunately it has been misinterpreted to be exactly that.
I spent a lot of time thinking about this and mapping it to our values. There are a couple that are particularly relevant:
Inside Out – The implicit assumption that Uber (or I) was somehow endorsing the Administration's agenda has created a perception-reality gap between who people think we are, and who we actually are.
Just Change – We must believe that the actions we take ultimately move the ball forward. There are many ways we will continue to advocate for just change on immigration but staying on the council was going to get in the way of that. The executive order is hurting many people in communities all across America. Families are being separated, people are stranded overseas and there's a growing fear the U.S. is no longer a place that welcomes immigrants.
Immigration and openness to refugees is an important part of our country's success and quite honestly to Uber's. I am incredibly proud to work directly with people like Thuan and Emil, both of whom were refugees who came here to build a better life for themselves. I know it has been a tough week for many of you and your families, as well as many thousands of drivers whose stories are heartfelt and heart-wrenching.
Please know, your questions and stories on Tuesday, along with what I heard from drivers, have kept me resilient and reminded me of one of our most essential cultural values, Be Yourself. We will fight for the rights of immigrants in our communities so that each of us can be who we are with optimism and hope for the future.
Travis
[ad_2]

Source link