[ad_1]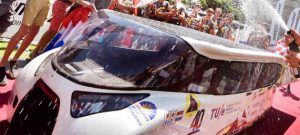 2015 winning Cruiser, from Eindhoven university
"We are delighted to support Solar Team Great Britain through the use of advanced modelling and simulation and high performance computing," said CFMS COO Sam Paice.
The team is aiming to compete in the in the multi-seat vehicle 'Cruiser Class' in Bridgestone's World Solar Challenge in October next year – involving 3,022km of Australian desert road from Darwin to Adelaide.
"We're seeking to be one of the most advanced teams racing in this category and the backing of CFMS plays a key role in this," said team founder Steven Heape. "The team was last week in Australia collecting tens of thousands of data points about the conditions the team will face in a year's time, and this will be used in modelling the car to create the perfect design to cope with these."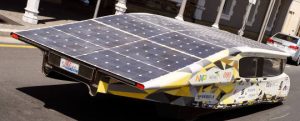 Heape's team brings together people from the University of Bristol, the University of Bath, Airbus, Higher Education Funding Council for England, Institution of Mechanical Engineers and QinetiQ.
"The wider vision of the project involves inspiring a new generation of engineers and young professionals to apply talents in sustainability and to encourage the development of vehicles that incorporate solar technology," said Heape.
According to the team, the Cruiser Class balances speed, practicality and energy efficiency: "Key success factors such as payload and energy efficiency will be key considerations applicable to aerodynamic performance. The 2013 event saw a four-seater family car travel the route with an external energy consumption of only 64kWh. In comparison, a modern family car consumes around 56mpg and will have an energy consumption of approximately 5MWh.
There does not appear to be a photo of he UK car.
Solar Team Great Britain has provided images of the 2015 Cruiser Class winner – from Eindhoven University of Technology. EW has been requested to credit Bridgestone World Solar Challenge 2015 and Bart Van Overbeeke for these photos.
[ad_2]

Source link