[ad_1]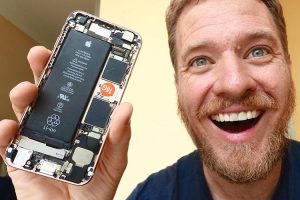 The unidentified chap in question, a self-declared American geek who has created the YouTube channel Strange Parts, says he found himself with a "burning question" – could he make his own smartphone? Setting the bar high, he aimed for an iPhone. "It's totally do-able," he says.
He heads, as you would, to Shenzen to source the electronics components. And he can also speak Chinese, all the better to haggle in back street markets….
He writes:
I built a like-new (but really refurbished) iPhone 6S 16GB entirely from parts I bought in the public cell phone parts markets in Huaqiangbei. And it works!
The story was highlighted by Gadgets.ndtv.com, which takes a sceptical line:
The project took "a couple of months," he says, adding that it is easy for even newbies to assemble an iPhone, and that it is no different from assembling your own desktop PC – though we'd beg to differ. For one, it involves way too much effort, and, the resultant product could very well blow up in your face (figuratively) without the numerous safety checks of a full-fledged, quality-tested production line.
Anyway, check out the full story:
The final step? A DIY iPhone boxing process…
As you can see, the single video on the channel has already been watch 3.5 million times. You can read more information on the associated Strange Parts website.
Thanks to Peter D. for highlighting this one.
[ad_2]

Source link