[ad_1]

Fuel costs represent up to 30% of airline operating expenses. This makes effective management and efficient distribution of fuel supplies at large airports an industry priority. However, managing airport fuel tank farms is a daunting task.
The process involves transferring fuel to the airport, storing fuel in tanks and delivering clean, in-specification fuel from the tanks to the aircraft. Fuel tank farm machinery needs to be maintained online at all times to ensure that planes are serviced safely and efficiently.
Minor malfunctions can have a ripple effect, affecting on-time departures and other key metrics that are essential to airline operations. Major incidents such as pump failures with fuel leaks can be catastrophic, jeopardising the safety of personnel and resulting in damage, which can shut down airport facilities and have a negative environmental impact.
Two recent events at major domestic airports highlight the importance of closely monitoring and properly maintaining the fuel tank farm equipment. In the first event, a fire damaged more than a dozen fuel pumps and caused 15% of departing flights to be delayed or cancelled. In addition, 75% of flights departing after the fire had to schedule a fuel stop at another airport. For the airport, this translated to increased operational costs to ferry in fuel, set up temporary fuel systems and replace damaged equipment.
Figure 1. Tough RF environment at an airport fuel tank farm – Linear Technology's SmartMesh IP WSNs enables TDG Technology's sensors to communicate reliably in hazardous areas with metal obstructions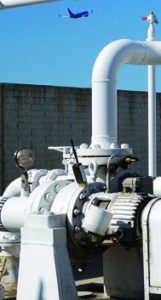 In the second event, an equipment fire was sustained by a fuel leak and destroyed all 14 pumps and filter vessels on that pad. Fuelling capacity was reduced by 50%—a serious problem for an airport, which averages 1.6 to 2 million gallons of fuel per day. In both incidents, the root cause was attributed to mechanical failure of the pumping equipment due to age.
Over time, fatigue, vibration and friction in the pumps raised their temperature to dangerous levels, resulting in ahigh risk of sparks and ignition of the fuel. The industry practice to predict mechanical failure is to measure pump vibration and temperature. However, the installation costs and the obtrusiveness of wiring have prevented traditional wired sensors from being used widely.
Solution
TDG Technologies developed the SmartHAWK Wireless Vibration & Temperature Sensor for use in critical, hazardous locations such as airport fuel tank farms. This wireless solution is powered by a long-life lithium battery and operates reliably in harsh environments where metal and other challenging structural configurations are present (Figure 1). A single sensor comprehensively characterises a fuel pump's mechanical degradation by measuring machine temperature (an indication of mechanical load) and vibration across three independent axes (axial, radial, and tangential). (Figure 2)
Figure 2. Wirelessly monitoring airport fuelling operations enable maintenance teams to identify and eliminate potentially catastrophic pump failures, which could interrupt aircraft operations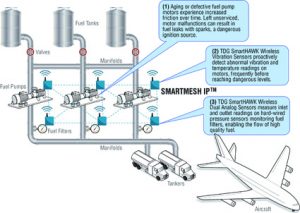 "We've been operating at airport facilities for nearly two years, and have optimised our SmartHAWK system to support the unique operating characteristics of the airport fuel farms," said Andrew Wagner, vice-president of TDG Technologies. "At TDG Technologies, our goal is to arm our customer with the intelligence to make quick and informed decisions regarding their resources."
Because the wireless communications network needs to function flawlessly without intervention, TDG Technologies chose Linear Technology's SmartMesh embedded wireless mesh networking for its field-proven, highly reliable, low-power operation in tough industrial applications.
"Linear Technology's SmartMesh wireless mesh is a robust networking solution, enabling our wireless sensors to operate in both hazardous and non-hazardous industrial environments where our systems are installed," continued  Wagner. SmartMesh technology has enabled SmartHAWK Wireless Vibration & Temperature Sensors to be easily installed and operated by personnel without specialised RF expertise. (Figure 3)
Figure 3. Condition monitoring in hazardous environments – SmartHAWK Wireless Vibration & Temperature Sensors from TDG Technologies monitor pump vibration and temperature at an airport fuel tank farm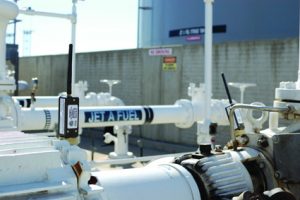 SmartHAWK alerts can be immediately delivered to any mobile device to help expedite the deployment of resources as pre-emptive measures for optimal machine maintenance. Furthermore, by providing technicians and facility operators with real-time, quantitative health information for rotating equipment such as fuel pumps, SmartHAWK cost-effective trend monitoring enables technicians to determine whether to schedule or defer preventive maintenance.
The results
Since December of 2014, TDG Technologies has deployed SmartHAWK Wireless Sensor Systems at several airport fuel tank farms in the southwestern United States. Airport technicians at each of the sites have established real-time alarm thresholds to deliver early indications of critical pumping machinery operating out of specification. To date, there have been no catastrophic equipment failures at any of the SmartHAWK monitored airport facilities.
To streamline day-to-day operations, airport facility managers are using the real-time data to document machine baselines, assess equipment performance, and proactively schedule maintenance to mitigate machine malfunctions and optimise operational efficiency. With a wireless mesh network now in place, the facility managers plan to add additional sensors beyond pump health monitoring, such as real-time visibility of incoming fuel quality and measuring pressure, thermocouples, strain gauges and displacement transducers to monitor the fuel flowing through the pumps and tank farm.
Conclusion
The SmartHAWK Wireless Monitoring Solution is helping airport facility teams to proactively maintain critical fuelling systems well within normal operating specifications to avoid mechanical sparking and fuel ignition. Furthermore, SmartHAWK systems help increase efficiency and lower operating costs by enabling a more data-driven decision-making process.  The use of SmartMesh IP wireless communications has enabled SmartHAWK sensors to communicate reliably among the metal and concrete in the tank farms and serve as a mesh networking infrastructure for future additional operations monitoring.
About TDG Technologies, LLC
TDG Technologies, LLC is a wholly-owned subsidiary of TDG Aerospace, founded in 1990 and headquartered in Escondido, CA. TDG Technologies offers the latest advancements in wireless sensors and mesh networking for deployment in harsh industrial environments. The SmartHAWK family of wireless networking devices from TDG Technologies is a wireless system designed to monitor and record critical machine data in hazardous and non-hazardous industrial environments. The system provides adjustable alert thresholds, email and text alert notifications and SCADA compatibility, which allows for customisation to specific needs. SmartHAWK is designed to deliver intelligent analytics and improve operational efficiency for industrial applications. More information on TDG Technologies and the SmartHAWK line of wireless sensors may be found at www.linear.com/smartmesh.
About Linear Technology and Dust Networks
 Linear Technology's Dust Networks® product group develops the industry's lowest power and most reliable standards-based wireless sensor networking (WSN) products, called SmartMesh®. SmartMesh products are field proven, with more than 60,000 customer networks deployed in 120 countries. By delivering >99.999% data reliability in tough RF environments, SmartMesh wireless mesh networks are trusted by customers to deliver critical sensor and control data reliably for many years without requiring intervention. With an average power consumption of less than 50μA in heavy usage applications, SmartMesh products deliver more than a 10-year battery life, enabling wireless sensor nodes to be placed anywhere with the lowest ownership cost. For more information on SmartMesh, visit www.linear.com/smartmesh.
[ad_2]

Source link