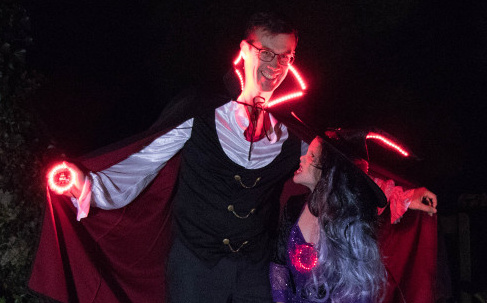 The micro:bit add-on board has 24 ZIP LEDs, which are individually addressable full colour LEDs, and the brightness is adjustable too. All you have to do is code them, via the MakeCode Block/Javascript editor!
The ten steps involved range from connecting the microbit to the add-on board and connecting a servo extension cable to soldering the flexible ZIP strips of LEDs and the code for the embedded MakCode editor…
For interested Gadget Masters, full details for the fancy dress project are shown on the Kitronik website.
Parts
BBC micro:bit
Kitronik ZIP Halo for the BBC micro:bit.
3 x AAA Battery holder with JST for powering the ZIP Halo
AAA batteries
The desired length of flexible ZIP strips for your design – 30 ZIPs per 50cm, 50 ZIPs per 50cm
Servo extension cable or connecting wire for connecting to the ZIP Halo and extra connecting wire for connecting between strips
Halloween dress such as the Pretty Potion Witch
"The opportunities for fun creativity with the ZIP Halo are endless," says Kitronik co-founder Kevin Spurr. "Indeed one could argue they are only limited by the user's imagination! We've enjoyed applying the ZIP Halo to the witch's hat and Dracula's cape but I'm sure creative coders will come up with some great Halloween ideas."
The add-on is priced at £13.80 (including VAT).
See also: The Halo addresses full colour LEDs for micro:bit projects