[ad_1]

Qualcomm is expected to top the rankings for apps processor in Q3 shipping 200 million APs, says Digitimes.
Qualcomm, MediaTek and Apple – will share 80% of the Q3 market  will drop to 76.6% in Q1 as competition kicks in  from Huawei's and Samsung's in-house-developed smartphone APs.
Apple's new products entering the market in Q3 will drive the vendor's AP shipments and the ratio of 7nm smartphone APs among the global total will grow rapidly to exceed 10%.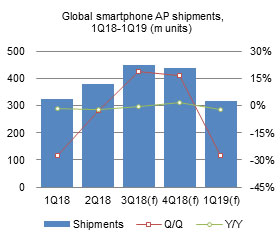 Hisilicon will  launch its 7nm Kirin 980 in sync with Huawei's flagship Mate 20 in third-quarter 2018 while Qualcomm and Samsung, lagging behind Huawei by one quarter, will begin inventory preparation in Q4.
All these factors will contribute to growing penetration of 7nm APs in the second half of 2018.
Lower-than-expected iPhone X sales caused a decline in hardware-based AI accelerators in the first half of 2018, however Apple's next-generation flagship smartphone AP will likely still incorporate hardware-based AI accelerators for AI tasks such as face or object recognition. 
This is expected to fuel the growth momentum of smartphone APs with hardware-based AI accelerators in the second half of 2018. 
Smartphone APs with software-based AI accelerators, on the other hand, are showing slow growth.
[ad_2]

Source link