[ad_1]

Audio amp blows a Raspberry
This expansion board adds a CD quality audio and 44/48 bit stereo record and playback to the Raspberry Pi.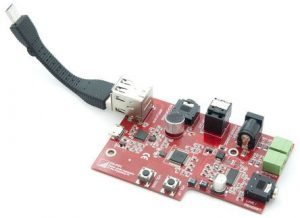 Dubbed PiFi the add-on board has three audio outputs that include stereo headphones. There is a Sony/Phillips Digital Interface Format (SPDIF)-6+6 Watt speaker amplifier.
RS Components is selling the board which comes with a microphone but an external hi-fi microphone can also be connected.
The board is Advanced Linux Sound Architecture (ALSA) driver compatible.
Smooth sounding Hi-Fi Pi
French firm Audiophile has designed an open source audio player based on a Raspberry Pi 3 computer module.
Called RaspTouch, the audio player has created an aluminium chassis for the player which has an ESS Sabre ES9018K2M digital-to-analogue converter (DAC) and its own touchscreen display.
The processing engine is a Raspberry Pi 3 which runs piCore Player and if you are not a Linux user you can opt for the ready to use Runeaudio edition.
Getting Pi in the picture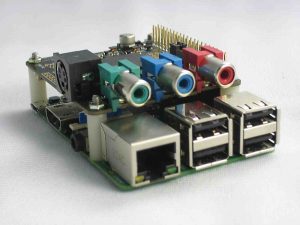 PiCapture is a video capture system based on the tiny computer board which emulates  the Raspberry Pi camera.
PiCapture is available from Lintest Systems in two versions:
Version SD1 captures standard-definition analog interlaced (NTSC/PAL) from Composite, S-Video, and YPbPr Component sources as 640×480 video.
Version HD1 captures high-definition progressive video from digital (HDMI/DVI), analog (YPbPr Component), and Computer (RGB) sources at 480p, 720p, and 1080p resolutions.
Old world, new world audio amp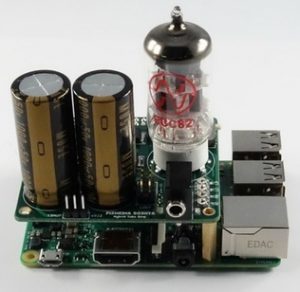 The 503HTA, designed and manufactured by Pi2Media, is an I/O shield for Raspberry Pi designed to provide "valve sound" audio for the single board computer.
This HAT allows the Raspberry Pi to drive headphones from 32 – 300ohm.
The on-board PCM5102A, 24-Bit at 192kHz DAC drives the single stage 6DJ8 (aka 6922) tube.
The Class-A output buffer consists of the audio grade IRL510 mosfet and an LM317A constant current source.
It can be pre-ordered from the US firm's website and the price is $159.
Watch Strictly on a Pi 
BBC TV programmes can be downloaded and viewed offline on your Raspberry Pi as high definition .MP4 files.
An open source utility program called get_iplayer allows you to download BBC iPlayer content for offline viewing.
Alex Eames from the RasPi.TV spotted a new problem which is that get_iplayer now requires a manual install of FFMPEG or it won't convert the downloaded .ts files to .MP4
He has written a new installation guide for the get_iplayer installation with the new part at the end.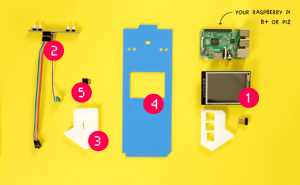 Raspberry Pi Ting-le factor
There NORD developer collective in London have gone all creative with Raspberry Pi.
They have come up with an easy to use design project platform for Raspberry Pi called Tingbot.  and they are creating smartphone apps to allow users to design graphics, draw, connect to simple data feeds and other interactive apps.
From a retro games emulator to a MIDI effects controller, you can create all kinds of apps for Tingbot.
Slicing Pi for big data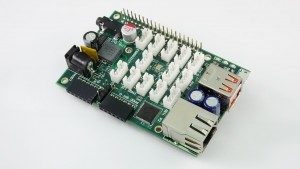 Pi 2 Design has developed a solid state drive shield for the Raspberry Pi 2.
The 502SSD shield has a 802.11 Wi-Fi interface built-in.
There is also an IoT sensor hub shield for Pi, the 502IoT, which provides access to sensors using the buffered 1-Wire Bus, along with the multiple Grove and PMOD I/O expansion connectors.
Using any 40-Pin GPIO version of the Raspberry Pi, the 502IoT creates a low cost, sensor hub, data collection, data storage and gateway device.
Don't fail me Pi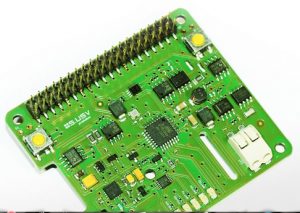 An uninterruptible power supply has been created for the Raspberry Pi by Olmatic in Germany.
The power supply can be adjusted so that the charging current can be 300mA (standard), 500mA, or 1A, depending on requirements.
Called S.USV pi basic, it connects through the J8 connector on the Raspberry Pi and as it  uses a common voltage source no additional cabling or power supply are needed.
[ad_2]

Source link