[ad_1]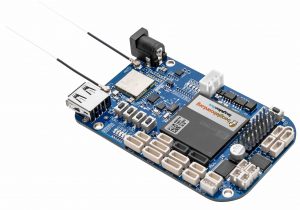 Built around the BeagleBone open hardware and based on a TI ARM Cortex-A8 processor, the BeagleBone Blue has a set of peripherals suited for building mobile robots.
The onboard 9-axis inertial measurement unit and barometer enable the development of self-aligning and orientating robotics, whether grounded or air borne, all directed with the support of on-board 802.11/b/g/n and Bluetooth 4.1/BLE wireless technology.
There are also four DC motor drivers, eight servo interfaces and four quadrature encoder inputs.
BeagleBone Blue uses an Octavo Systems OSD3358 System-in-Package device which includes a TI AM3358 1-GHz ARM Cortex-A8 CPU with 512MB DDR3 RAM, 4GB 8-bit on-board flash storage and power management.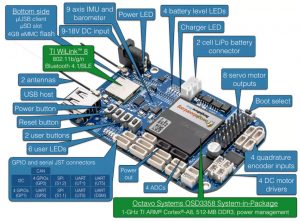 The TI AM3358 is notable for having two 32-bit programmable real-time units (PRUs) running at 200MHz, which is useful for application in robotics.
BeagleBone Blue features
Processor: Octavo Systems OSD3358 1GHz ARM® Cortex-A8

512MB DDR3 RAM

2×32-bit 200-MHz programmable real-time units (PRUs)

4GB 8-bit on-board flash storage programmed with Debian Linux distribution

Connectivity and Sensors:

Battery: 2-cell LiPo support with balancing, 9-18V charger input
Wireless: 802.11bgn, Bluetooth 4.1 and BLE
Motor control: 8 6V servo out, 4 DC motor out, 4 quadrature encoder in
Sensors: 9 axis IMU, barometer
Connectivity: HighSpeed USB 2.0 client and host
Other easy connect interfaces: GPS, DSM2 radio, UARTs, SPI, I2C, analog, buttons, LEDs

Software Compatibility

Debian, ROS, Ardupilot, …
Graphical programming, Cloud9 IDE on Node.js
plus much more
 The development platform is available from the distributors Farnell element14, Arrow and Mouser, with pricing around £47.
BeagleBoard.org writes:
BeagleBone Blue leverages and engages a large community of experienced Linux and robotics developers, providing integrated solutions for numerous robotics challenges. Designed and developed in coordination with the UCSD Coordinated Robotics Lab, the basis for the hardware and software setup has been utilized by hundreds of students already, before this general public release.

Several programming approaches are supported today, including a C API supporting the integrated sensors and drivers, mainline support for the Ardupilot open-source autopilot software for UAVs, multi-rotor-copters and rovers and an evolving integration with Robot Operating System (ROS) allowing for high-level programming in Python or across the network. Additionally, partners have created fully graphical programming options, eliminating barriers even to those brand new to programming. Not yet another microcontroller robotics platform, the high-performance interactive Linux-based BeagleBone Blue has test programs ready-to-run and cycles to spare, helping you get your robot moving fast.
Claire Doyle from Premier Farnell, writes:
"This new product opens up new horizons, enabling makers and students with skills of all levels to have a go at creating their own robots or droids.  Built specifically for use in the development of robotics, it's easy to get started creating projects – either for fun or with a real world purpose in mind."
[ad_2]

Source link