You've got an Android device, either because you didn't want, or couldn't afford, an iPhone – and in years past that meant you had to live with substandard apps. Thankfully, those days are well and truly over, with reams of great little programs standing toe to toe with the best Apple's App Store has to offer.
Admittedly, the huge quantity of apps doesn't mean they're all quality – far from it in fact, and finding the good ones can be tough. 
There are tools and techniques to help, with various lists in the Play Store providing you with Editor's Picks across a range of categories, new releases and even apps that are specifically recommended for you based on your previous installs.
You can also hunt out apps that are similar to your favorites by searching for an app you have and seeing what else comes up.
And checking out user reviews and ratings can save you from downloading a dud of an app.
But even with all that, the sheer number of apps on Google Play means many of the best can often get lost, while weaker ones sometimes rise to the top.
So to make sure you never install a duff app here's our selection of the best you should install right now – each one carefully chosen to ensure you'll have a whole suite of fun, engaging and, dammit, useful apps on your phone or tablet.
New this week: Notin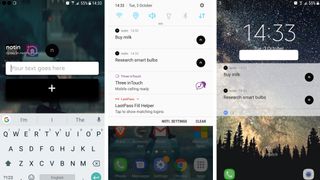 Notin is a simple app, but a useful one. Simply type out something you want to be reminded of, tap the plus button and it will be sent to your notification shade, so you can always see it on your lock screen or when you swipe down from the top of the screen.
Got more than one thing to remember? Type something else out and hit the plus again to get more than one notification.
That way, rather than having a reminder pop up at what may end up being an inconvenient time, you'll always just see it when using your phone, so you'll never again forget that you need to buy milk or get married.
Once you've done the thing you need reminding of just swipe the notification away, as you would with any other notification.
There are two potential weaknesses with Notin. One is that it's entirely too easy to swipe away a reminder without thinking, the other is that if you have lots of things on your to-do list your notifications screen could quickly become cluttered, so Notin is best just for reminding you of one or two important things, while keeping your full list elsewhere.
Still, as a completely free tool Notin is well worth remembering.