[ad_1]

So you've got an iPad, but have come to the dawning realisation that you've got no cash left to buy any games for it.
Have no fear, because the App Store offers plenty of iPad gaming goodness for the (unintentional or otherwise) skinflint.
Haven't bought an iPad yet and not sure which is best? We've got them listed on our best iPad ranking – or you can check out the best tablets list to see the full range available now.
Our updated pick of the best free iPad games are listed right here.
New this week: Silly Walks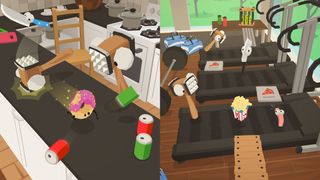 Silly Walks is a one-thumb arcade game, featuring wobbling foodstuffs braving the hell of nightmarish kitchens (and, later, gardens and gyms), in order to free fruity chums who've been cruelly caged.
The hero of the hour – initially a pineapple cocktail – rotates on one foot. Tapping the screen plants a foot, causing him to rotate on the other foot and changing the direction of rotation. Charitably, this could be called a step, and with practice, it's possible to put together a reasonable dodder.
And you'll need to. Although early levels only require you to not fall off of tables, pretty soon you're dealing with meat pulverizers, hero-slicing knives, and psychotic kitchenware in hot pursuit.
It's admittedly all a little one-level – Silly Walks reveals almost all in its initial levels – but smart design, superb visuals, and a unique control method make it well worth a download.
[ad_2]

Source link