[ad_1]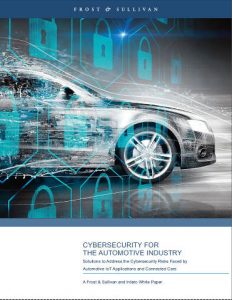 Called 'Cybersecurity for the automotive industry' examines plans to implement connectivity and security strategies, and technologies to keep vehicles safe while on the road – essentially it is a careful review of the current situation in eight pages of a followed by eight pages describing what Irdeto offers those in need of automotive security.
It examines threats through examples of real automotive cyber-attacks, and strategies to combat these threats.
"This whitepaper was reliant on Irdeto's expertise in the content protection space, which involved dealing with professional hackers for nearly five decades," said Frost & Sullivan programme mananger Niranjan Manohar. "A variety of very public cyber-attacks against automotive companies have occurred over the past few years, only scratching the surface of the magnitude of the risks. Connectivity is what consumers want, but security will need to be a key focus area across the vehicle life-cycle."
Frost & Sullivan research found that growing digitalisation will drive the automotive industry to invest $82bn by 2020 on advanced technologies, and that the automotive industry's spend on car cyber-security is expected to increase at a CAGR of 24.4% from 2015 to 2025.
One of the key challenges faced by the automotive market is the increasing extent of in-vehicle connectivity, which extends from infotainment to mobile phones, voice recognition, navigation and communication with other in-vehicle infrastructure.
While this connectivity is essential to satisfy consumer demand, said Irdeto, it also introduces a variety of vulnerabilities that hackers aim to exploit to gain control of a vehicle or access to private customer data collected by the vehicle.
"Hackers and cybercriminals are employing new strategies to exploit vulnerabilities in today's connected cars," said Irdeto automotive head Daniel Thunberg. "Consumers crave connectivity in their vehicles and with investments in digitisation and connectivity expected to increase in the coming years, OEMs and tier-one operators need to think of cyber-security from the beginning by implementing a comprehensive security approach."
The report is available free here, but requires a log-in procedure.
Irdeto will show cyber-security solutions at CES Asia (June 7-9) and TU Automotive (June 7-8).
[ad_2]

Source link