[ad_1]

The TSZ182 op amp has a chopper-stabilised design and a 3MHz gain-bandwidth.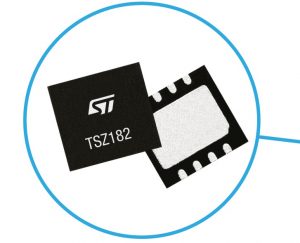 The offset voltage of 25µV at 25°C is designed for high measurement resolution and accuracy without external trimming components.
Offset drift is specified by the supplier at less than 100nV/°C.
The op amp operates from a 2.2V-5.5V supply and provides rail-to-rail inputs and outputs.
The operating current is 1mA at 5V.
The device is available in 2mm x 2mm DFN8 or Mini-SO8 package options.
ST believes the op amp's precision and accuracy over temperature will allow it to be used in applications such as body-signal monitors, blood-glucose meters and low-side current sensing.
[ad_2]

Source link