[ad_1]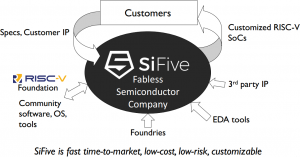 This Series B round brings the total investment in SiFive to $13.5 million.
SiFive was founded by the inventors of RISC-V – Krste Asanovic, Yunsup Lee and Andrew Waterman.
In its first six months of availability, more than 1,000 HiFive1 software development boards have been purchased and delivered to developers in over 40 countries.
SiFive says it has engaged with multiple customers across its IP and SoC products, shipped the first RISC-V based SoC last November and made its Coreplex RISC-V IP available earlier this month.
"At Spark Capital, we believe technology is the great equaliser," says Spsrk partner Todd Dagres, "SiFive's singular goal of putting custom chips into the hands of everyone from startups to exploratory design teams to inventors with a healthy crowdfunding campaign resonates with our core values."
RISC-V has developed an ecosystem of more than 60 companies including Google, HPE, Microsoft, IBM, Qualcomm, NVIDIA, Samsung, Microsemi and others.
Member companies, as well as third-party open-source contributors, are actively contributing to a maturing stable of software and toolchains, including GCC and binutils, both of which have been upstreamed.
SiFive maintains an easy to install toolchain, SDK and BSPs with binaries of the latest open source tools, including OpenOCD, GNU Debugger, Arduino IDE and the Eclipse integrated development environment.
SiFive launched its Freedom Everywhere platform – designed for microcontroller, embedded, IoT and wearable applications – and its Freedom Unleashed platform – for machine learning, storage and networking applications – in July 2016. In November, SiFive announced general availability of the Freedom Everywhere 310 (FE310) SoC and the HiFive1 software development board
Earlier this month, SiFive launched its Coreplex IP and announced a growing ecosystem of partners, including Faraday, Microsemi and United Design Systems, making SiFive Coreplex IP available to their downstream customers.
[ad_2]

Source link