[ad_1]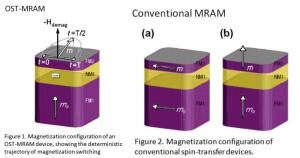 The sample devices utilize 80nm perpendicular magnetic tunnel junctions (MTJs), the latest generation of MRAM technology. The company is delivering these devices on evaluation boards, so customers can easily apply patterns to the devices to assess their functionality and determine their suitability for embedding in their own products for non-volatile memory applications.
Barry Hoberman, CEO of STT, commented, "We are on track and executing to STT's product roll-out timeline. Our priority is shipping fully functional, reliable perpendicular ST-MRAM devices, and we have achieved that with these samples. We believe the samples will demonstrate to our customers the advantages provided by our ST- MRAMS in terms of low-write energy, byte addressability and easy process integration, providing an excellent alternative to embedded flash for many applications."
Following shipping of samples, STT first aims to partner with customers to co-develop devices to be embedded in their products. In parallel STT will continue work to refine and optimize its stand-alone devices, including by enhancing bit densities and performance characteristics.
STT's patented OST-MRAM has the potential to replace major segments of the market for flash, SRAM and DRAM semiconductors in applications such as mobile products, automotive, Internet of Things (IoT) and data storage.
STT is simultaneously focused on developing state-of-the-art magnetics technologies along with unique CMOS circuits that work with existing CMOS processes. Compared with conventional spin transfer MRAM approaches, the STT OST-MRAM devices offer advantages in speed, power efficiency, cost, reliability and scalability.
STT's ability to combine the state-of-the-art magnetics with proven CMOS demonstrates the capability of the technology to operate in memory arrays with existing process standards and move quickly into high-volume production.
[ad_2]

Source link