[ad_1]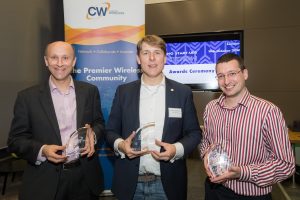 The winners –  8power with its smart, self-powered wireless sensors, risk analytics company AlgoDynamix and satellite positioning specialist Focal Point Positioning – were chosen from 10 finalists who presented their disruptive technologies and business plans to a panel of 28 expert judges.
8power has developed smart wireless monitoring and sensing products for industrial, automotive, utility, built environment and infrastructure applications. The company's patented technology addresses the problem of battery replacement by harvesting power from vibration and has already been trialed successfully on the Forth Road Bridge in Edinburgh.
AlgoDynamix is a pioneering portfolio risk analytics company dealing with financially disruptive events for investment banks and asset managers. Its software detects anomalies in financial markets and anticipates price movements hours or days in advance of the event, without using historical data or previous disruptive events.
Focal Point Positioning is creating innovative advances in satellite positioning, navigation and timing, for both indoors and outside. Its smartphone-based sensor fusion, machine learning and signal processing technology dramatically improves the sensitivity and performance of existing radio-based positioning systems for urban environments and deep indoors.
David Cobb, innovation tax partner at Deloitte and one of the judges, writes:
"The finalists this year lived up to expectations and proved that the UK technology start-up scene is in rude health. While the spotlight is on the three winners it was a tremendous opportunity for all the finalists to get feedback and advice from 28 industry experts and investors that they can use to help drive their businesses forward."
Judges included tech-business executives and investors from the likes of Amazon, ARM, Barclays, BT, Deloitte, Intel, Google, Oxford Capital, Samsung and UK Business Angels.
[ad_2]

Source link