Toys R Us is using its Black Friday deals for 2017 to prove that it's more than just toys – it's selling everything a kids (and a kid at heart) wants to play with. This extends beyond action figures, to LEGOs, Nerf guns, swing sets and more.
Black Friday later this month could be the last for the renowned American toy store facing bankruptcy. Of course, that means that we're likely to see even more desperate discounts from Toys R Us. Their mascot Geoffrey the Giraffe needs to eat.
This is on top of the fact that Toys R US Black Friday discounts are always a boon for shoppers searching for big ticket kids toys on sale. It's always been a shopping holiday built for a store like TRUs, and 2017 will be no different.
We're expecting Toys R Us deals to extend to Nintendo Switch, Xbox One and PS4 bundles and give us Barbie, Transformers and and Tickle Me Elmo TMX on the low end. LEGOs fall (break apart all over the floor) somewhere in between, depending on the original prices.
Quick link to Toys R Us deals
Early Toys R Us deals for Black Friday
Toys R Us ads to leak ahead of time
At the moment there aren't any leaked Toys R Us Black Friday ads for the deals in 2017. Expect some to start showing up closer to the end of November.  
These early ads will help you identify some of the deals you want to pounce on quickly. Since stock is generally limited, knowing which deals you want and when they start is the best way to snag them.
Early ads for Toys R Us Black Friday deals will also help you compare with deals from other retailers, so you can plan out what to buy where, and determine backup plans if one retailer's Black Friday deal sells out before you get to it.
Sometimes retailers' advertisements for their Black Friday deals will leak ahead of time, giving everyone plenty of time to figure out where the best deals will be.
Before Black Friday: Current Toys R Us deals
Toys R Us has wide variety of My Little Pony toys on clearance, with many nearly 50% off.
There is a clearance discount on a number of Funko miniatures, keychains, and figures. The discount ranges from 50% to 75% off.
Toys R Us has some deals on Nerf N-Strike guns. The Nerf AlphaHawk Blaster is $10 off, bringing the price of this highly rated toy gun to $24. The Nerf HyperFire Blaster is $11 off for a price of $43. A wide range of Nerf Super Soakers are on discount.
Plenty of Lego kits also have their prices reduced right now. A kit of Yoda's Jedi Startfighter is 20% off for $19. The Lego Friends Heartlake Grand Hotel is $36 off for $103. The Lego Minecraft kit of The Cave is over 25% off for $16.
The Power Wheels Barbie Jammin' Jeep Wrangler is $74 off for a total of $225 with free shipping.
Expected Toys R Us deals
Look out for Toys R Us deals on big ticket items. Game consoles like the Xbox One, PS4, Nintendo Switch are always hot items around Black Friday, as are all of games for these consoles. 
This fall will see the release of a lot of major games along with the new Xbox One X, and since new generally doesn't translate to cheap, Black Friday deals may be the best opportunity to get at these items.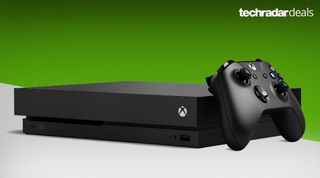 Black Friday deals in 2016 included console bundles as well as discounts to games on their own, so be on the lookout for these.
Popular toy brands like Lego, Disney, Star Wars and Barbie will also likely have special deals. Star Wars, Lego, and Barbie were popular deal brands in 2016, and it's unlikely that will change for Black Friday 2017. With a new Star Wars movie coming out, expect both Star Wars and Star Wars-branded Lego products to be a hot item.
Also expect deals on some bigger items, such a Power Wheels cars, backyard trampolines and other pricey purchases. Anything like this that generally costs a lot will likely have some discount applied to it.
Toys R Us Black Friday advice
In recent years Black Friday has grown to include days leading up to and even the whole weekend following the actual day itself. This means deal hunters need to be on the lookout for deals as early as they can, because there will surely be some big ones that catch us all off guard.
Online shopping may be making it easier to actually shop on Black Friday, both in stores and on the internet, but there's still serious competition among shoppers. Look for deals early and often if you know what you want to buy. Doing so will not only help you spot the best Toys R Us Black Friday deals as soon as possible, but it will also help you known when the listed deal price is actually a change from the non-Black Friday price.
Also think about using a price comparison tool, such as the Chrome extension to see which retailer is offering the best deal on products. Though Toy R Us Black Friday deals will surely be good, other retailers might do even better.
Consider a VPN if you plan to do a lot of online shopping. Internet congestion can slow your online shopping to a standstill if a lot of people in your area are doing the same thing. A VPN will let you connect to servers in a different region where congestion might not be a problem, allowing you to snatch up the best Black Friday deals while others stare at a webpage that never loads.
If you see the deal you were looking for and it's in stock, don't wait around. Inventory is one of shoppers' biggest enemies during Black Friday. Not much hurts worse than seeing something you want is available, spending a bunch of time thinking about how badly you want it, and then not being able to get it. Don't delay on the best Toys R Us Black Friday deals this year.