[ad_1]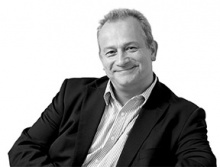 The new funding comes from existing shareholders, IP Group plc and Woodford Investment Management, as well as new investors, including Cornes and Dolby Family Ventures.
"We are a global business and the range of investors now reflects this more than ever," says Ultrahaptics CEO Steve Cliffe (pictured), "the Dolby family fund managers bring expertise in key markets, Cornes reflect and support the growth of our distribution network in Asian markets, and we are of course thrilled to continue our existing relationship with both IP Group and Woodford Investment."
The funding will support the company through its global expansion and its entry into virtual and augmented reality markets.
"We have supported Ultrahaptics from the very beginning and have been impressed with its substantial growth and ambition. I am particularly excited about the prospect of the company bringing its technology to virtual reality where it has the potential to be truly disruptive, and where the market pull has been significant," says IP Group's Mark Reilly.
"We have invested in Ultrahaptics for its potential to enable completely new experiences and user interfaces," says David Dolby.
Ultrahaptics' technology uses ultrasound to project sensations through the air, directly onto a user's hand.
The technology enables entirely new user interfaces and experiences, making it possible to interact with virtual objects and applications in innovative yet intuitive and natural ways.
Users can 'feel' buttons and interact with virtual objects in mid-air, using gestures to interface with technology.
The technology is aimed at a variety of different applications in which touchless interfaces are being developed from automotive, where the company has developed concept vehicles with both BOSCH and HARMAN, to industrial controls, medical interfaces, and AR and VR environments.
[ad_2]

Source link